We have exceptional stylists, all specializing in Color, Perms, Ethnic Hair, the latest in cuts for everyone in your family, Hair Extensions, and Waxing.
We have exceptional stylists, all specializing in Color, Perms, Ethnic Hair, the latest in cuts for everyone in your family, Hair Extensions, and Waxing.
Cut & Shampoo
Cut & Blow-dry
Partial Foil
Partial Foil & Cut
Color
Color & Cut
Color, Partial Foil & Cut
Cap Highlight
Cap Highlight & Cut
Full Foil
Full Foil & Cut
Full Foil, Color & Cut
Perm
Perm, Cut & Iron
Shampoo & Set
Shampoo & Blow-dry
Updos
Extensions
Hair Tinsel
Our nail services include Acrylic Nails, Spa Manicures (paraffin wax included in every one of our manicures), and pedicures in which we use a variety of sugar scrubs guaranteed to revive the most tired of Tootsies!
Spa Manicure
Mini Manicure
Paraffin Wax
Overlay
Nail/Buff/Polish
Toes/Buff/Polish
Shellac Manicure
OPI Gel Polish Manicure
Nail/Buff & Polish
Spa Pedicure
Mini Pedicure
Full Set of Acrylic Nails in
Pink & White
Regular Fill in
Pink & White Back Fill
Powder Dip Nails
Most people have unwanted hair and our technicians will happily remove any unwanted hair by gently using warmed wax. See our services below.
Hair Removal
Shaping
Arching
Eyebrows
Lips
Chin
Full Facial
Our skin specialists offer a variety of services for your face & skin.
Relaxing and Cleansing Facials

PLASMA Fibroblasting at the loft which is non surgical skin tightening. Therapy is a new skin tightening procedure that is generating a lot of buzz in the medical aesthetics industry. It delivers tiny arcs of 

plasma

 created by an electrical discharge via a "

plasma

pen" to the skin, singeing the surface and tightening the underlying tissue.

Spray tanning at Loft
Microblading is a semi-permanent makeup procedure whereby hair like incision strokes are created along the eyebrow to attempt to either enhance, reshape or create a natural looking appearance on the brows.
It is a form of semi-permanent makeup that provides a means to partially or fully camouflage missing eyebrow hair with the appearance of simulated hair using fine deposits of cosmetic tattoo pigments. 
NEW SERVICE: Powder Ombré Brows, Permanent eyeliner, lip blushing.
Book your appointment with Cassandra Barry today (386) 410-4745.
If you would like to speak to one of our Hair Stylists, Nail Technician or Waxing Specialists simply stop by our salon and we will help you choose a service that is custom tailored to your needs. Schedule a Consultation (386) 410-4745
Our massage services will leave you invigorated, relaxed and renewed. Before booking your massage please let us know if you have any health issues or concerns. Our therapists offer various types of massage pressure for your healing and enjoyment.
Swedish
Aromatherapy
Pregnancy
Hot Stones
Dermapigmentation which is a form of permanent makeup can be used to disguise blemishes, on receding hairline to create a more natural look, also for breast augmentations due to mastectomy.  Permanent makeup is a cosmetic technique which employs tattoos as a means of producing designs that resemble makeup, such as eyelining and other permanent enhancing colors to the skin of the face, lips, and eyelids.
Dermapigmentation is the revolutionary method of depositing hypoallergenic organic mineral pigments into the dermal layer of the skin, offering….
 Stretch mark camouflage

Cosmetic & reconstructive areola pigmentation

Skin disorder pigmentation

Scar camouflage

Hairline Restoration

Scalp Micropigmentation
Book your appointment with Kira today at 321-537-3711  or send a request through
here
Tiny/minimalistic tattoos
A+ Ocean Saline removal of PMU and tattoos using aplusocean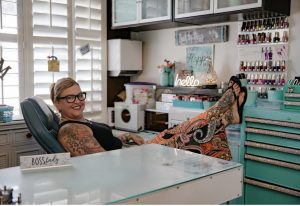 I am first and foremost a woman of Faith, a wife to Chad and a mother to a beautiful son I adore. I have been in the industry for 20+ years, graduating from Cindy Lee's Nail Institute in 1995. I own all Swanky locations and love what I do everyday and the Swanky Family and clients that I get to spend my days with. I specialize in Acrylic Nails, Gel manicures, therapeutic pedicures and nail art. Our clients are our family and we like to make sure every one of them are home when they are with us!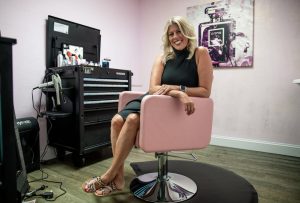 Graduated from Ms. Roberts Beauty academy in Chicago. Been licensed here in Florida for over 6 years. Absolutely love any and everything in the beauty and fashion industry. Spare time is spent with my husband and three girls, that's if I'm not hanging around Tanger mall. I love making people feel beautiful. I specialize in color, foiling, haircuts, and certified in Brazilian blowouts. I am always on the lookout for the next up and coming trend.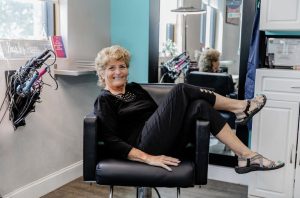 My name is Peggy Kayholm and I moved here from Michigan 2 years ago. I have been married to Rick almost 30 years. Our secret to a lasting marriage – sense of humor. I have 3 grown sons and 8 grandchildren. I love being a gramma. Those kids have gotten me to do the craziest things and I have 3 Youtube videos to prove it. I've always loved the ocean but never learned to swim. I love the sunshine. I made a shell garden with shells that we picked up on the beaches. Being a stylist is the job I was born to do. I never get bored with it. I even cut hair while in the hospital having babies. Told those nurses "find me a pair of shears". I would say "color" runs through my veins. I love clients who gush with happiness. I excel in dimensional color. I love people, talking and a good story. I never met a stranger. Can't wait to meet you!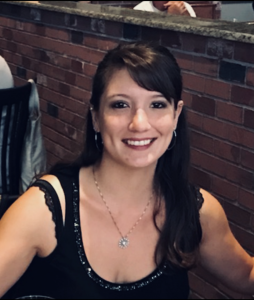 Having been a part of the cosmetology industry for eight years, I obtained my degree from Albany Technical College. Men's cuts and formal updos are my passion. I also specialize in cutting, texturizing, color and styling. Born and raised in south Georgia with manners and hospitality, have only better helped my skills to connect and understand my clients. Individualism is a unique quality that makes this business interesting and worthwhile everyday. Hair is one of the many expressions we can use to shape and mold our personalities. Offering hair healthy advice into those expressions is my favorite aspect of the industry. I'm glad to be one of the newest members of the Swanky Studios family.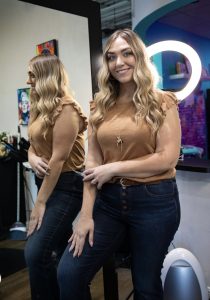 My name is Brittany. I was born in upstate, NY. I've been in the industry for 14 years. I specialize in blonding services, hair extensions, balayage and blowouts. Staying relevant in the beauty industry is very important to me. So to stay inspired, I enjoy traveling to hair conferences and learning as much as I can from other stylists around the world. After spending 9 years in Charlotte, NC, I met my fiancé and decided to start an exciting new chapter in New Smyrna Beach! When I'm not behind the chair I enjoy cooking, crafting and spending time with my 2 senior pups Coco and Feona.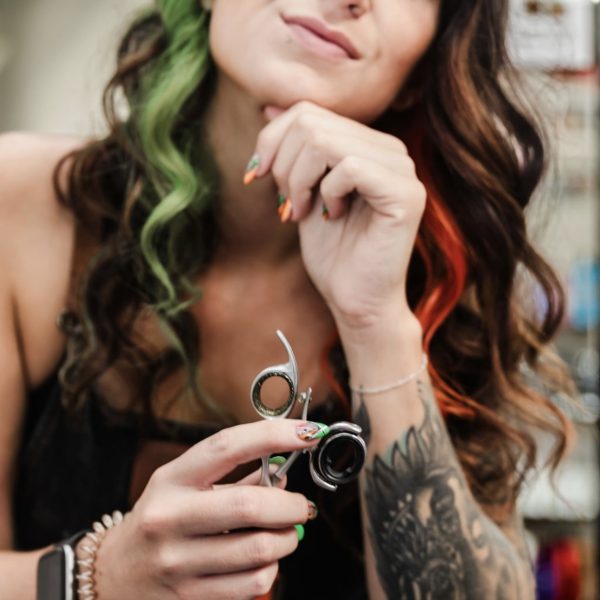 Hello! My name is Tiffani and I've been doing hair since 2014. I specialize in foiling, balayage, and fades. Soon will be offering Bellami extensions!! When I'm not in the salon having a blast, I'm typically with my dogs! I have 3 beautiful girls who love the beach as much as I do! I'd love to chat with you about all your hair needs! Can't wait to see you.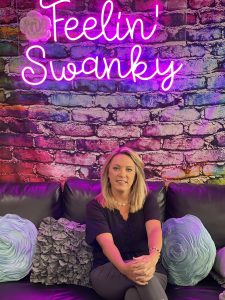 I have had a passion for the Beauty industry for most of my adult life. Through continuing education and experience I now specialize in color, specialty foiling, keratin, fading, and  haircuts on all textures. 19 years later and still loving everyday I get to work behind my chair and be part of it ❤️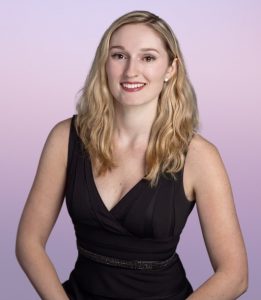 Licensed Medical Aesthetician
Charleen is a Licensed Medical Aesthetician and Cosmetic Tattoo Artist offering a wide variety of services to take care of all your aesthetic needs.
Charleen attended Cindy Lee's Facial & Nail Institute in Daytona Beach, Florida in 2016 where she received her extensive knowledge and state license. In 2019, she attended Nouveau Contour in Orlando, Florida where she received the highest quality training in eyebrow micropigmentation. 
Charleen also received an Associate of Arts degree from Daytona State College in 2019. She continues to stay up to date on the latest advancements and treatments in the skincare industry.
Charleen enjoys educating her clients on their specific skin concerns and helping them to achieve their best skin health. Her passion for education has led her to teach at several skincare schools in the Central Florida area.
Her hobbies are spending time with friends and family, enjoying the beautiful Indian River canoeing, boating & being at the beach. She also loves playing with her cat Delilah.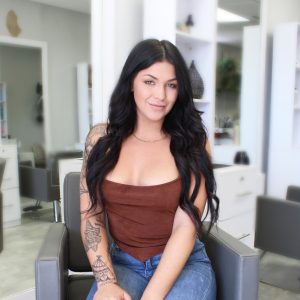 Originally from New Jersey, I moved to Florida when I was six years old and I have been a local of New Smyrna ever since ! After graduating high school here in 2014, I immediately went into beauty school, and have been pursuing my passion ever since. I have multiple certifications as well as been trained by multiple artist, Working and giving back to the community I grew up in is so one of my favorite parts about my job. I love talking and bonding with people so all my clients feel like my family. I specialize in blondes, lived in color, and extensions, but I love to do anything ! If I'm not working, you can find me on the beach or hanging out with my dog lily.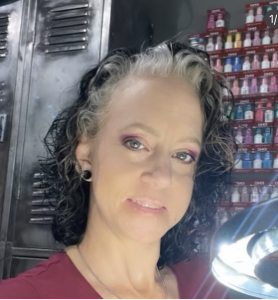 I'm a Florida native nurse turned Aesthetician. I spent almost 20 years in nursing and finally found my home in aesthetics. I bring that knowledge, care and cleanliness with me into the beauty industry, including advanced diabetic training. I specialize in all things nails, enhancements, acrylics, xl long nails, nail art, shorties, gel manicures and dip powder. I also specialize in pedicures with ingrown nail removal, and diabetic foot care. Do your eyebrows need some love? I'm your waxing artist! I look forward to collaborating with you to bring all your beauty goals to a reality.

If you want a GREAT hairdo go see Kerri Harris! So happy with her and her personality is so easy and we connected right away! THANKS Kerri for giving me a great haircut. It's more than I even expected and just the change I have been searching for.
I LOVE this place. Kat has been doing my hair for 6 years now. I have seen her and the business grow. I wouldn't recommend anywhere else for an amazing hair experience. Great prices, fantastic skill level and the best COLOR!
Had my 1st visit here today. Got my hair cut by Kerri. She is AMAZING!! I went from long hair to a very short style..she got me an appointment quickly and listened to exactly what I wanted. I brought in a picture of the style I wanted, I left looking Better than the picture!!!
Great experience! I really like what Kerri did with my hair!