Swanky Studio @Canal
534 Canal Street New Smyrna Beach
Our salon houses some of the most talented Stylists, Nail Technicians, Esthetician and a Massage Therapist. Both Located in beautiful downtown New Smyrna, Swanky offers services for every member of your family!

We have exceptional stylists, all specializing in Color, Perms, Ethnic Hair, the latest in cuts for everyone in your family, Hair Extensions, and Waxing.
We have exceptional stylists, all specializing in Color, Perms, Ethnic Hair, the latest in cuts for everyone in your family, Hair Extensions, and Waxing.
Cut & Shampoo
Cut & Blow-dry
Partial Foil
Partial Foil & Cut
Color
Color & Cut
Color, Partial Foil & Cut
Cap Highlight
Cap Highlight & Cut
Full Foil
Full Foil & Cut
Full Foil, Color & Cut
Perm
Perm, Cut & Iron
Shampoo & Set
Shampoo & Blow-dry
Updos
Extensions
Tinsel Hair
Our nail services include Acrylic Nails, Spa Manicures (paraffin wax included in every one of our manicures), and pedicures in which we use a variety of sugar scrubs guaranteed to revive the most tired of Tootsies!

Spa Manicure
Mini Manicure
Paraffin Wax
Overlay
Nail/Buff/Polish
Toes/Buff/Polish
Shellac Manicure
OPI Gel Polish Manicure
Nail/Buff & Polish
Spa Pedicure
Mini Pedicure
Full Set of Acrylic Nails in
Pink & White
Regular Fill in
Pink & White Back Fill
Powder Dip Nails
Most people have unwanted hair and our technicians will happily remove any unwanted hair by gently using warmed wax. See our services below.
Hair Removal
Shaping
Arching
Eyebrows
Lips
Chin
Full Facial
Our massage services will leave you invigorated, relaxed and renewed.
Swedish
Aromatherapy
Pregnancy
Hot Stones
Microblading is a semi-permanent makeup procedure whereby hair like incision strokes are created along the eyebrow to attempt to either enhance, reshape or create a natural looking appearance on the brows.
It is a form of semi-permanent makeup that provides a means to partially or fully camouflage missing eyebrow hair with the appearance of simulated hair using fine deposits of cosmetic tattoo pigments. Book your appointment with Cassandra Barry today (386) 410-4745.
If you would like to speak to one of our Hair Stylists, Nail Technician or Waxing Specialists simply stop by our salon and we will help you choose a service that is custom tailored to your needs. Schedule a Consultation (386) 957-3841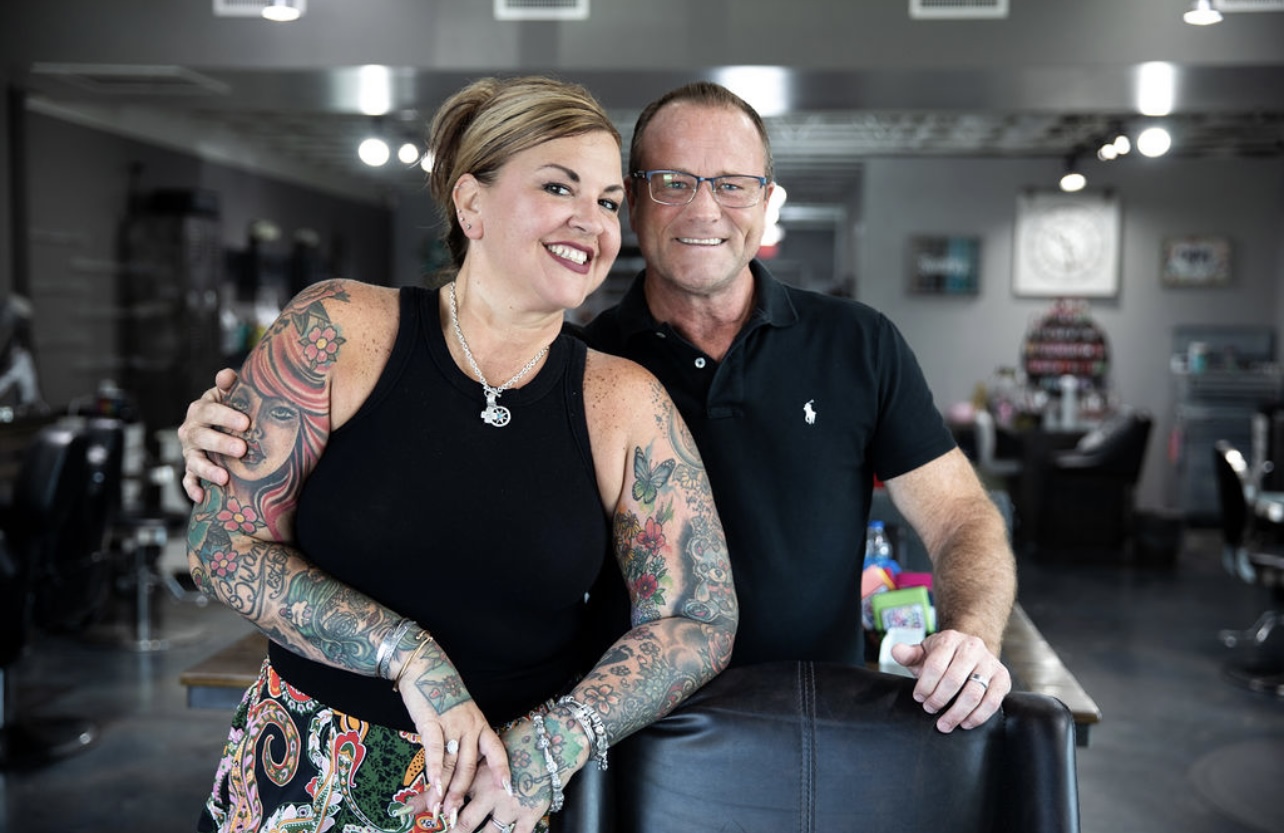 I am first and foremost a woman of Faith, a wife to Chad and a mother to a beautiful son I adore. I have been in the industry for 20+ years, graduating from Cindy Lee's Nail Institute in 1995. I own all Swanky locations and love what I do everyday and the Swanky Family and clients that I get to spend my days with. I specialize in Acrylic Nails, Gel manicures, therapeutic pedicures and nail art. Our clients are our family and we like to make sure every one of them are home when they are with us!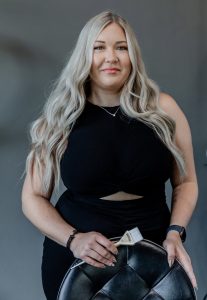 Im a New Smyrna local born and raised. A lover of Jesus, family, friends and all things hair. I specialize in modern color, blonding and extensions of all sorts. I love getting to spend time with my clients and strive to never stop learning and growing in every way. It means the world to me to be able to help people look and feel as amazing on the outside as they are on the inside.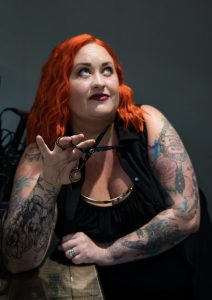 I pride myself on an honest consultation; I will not promise something I cannot do, nor will I do something which compromises the integrity of a clients hair. The health of your hair is my number one priority. I believe hair should be beautiful all the while saying something about who you are or want to be.
I have had incredible opportunities to expand my education and continue to bring the top trends to my amazing clients.  Traveling to Chicago, Las Vegas, Los Angeles, Utah and Thailand the variety of classes and training I have attended allow me to bring you the absolute best techniques. I specialize in Balayage, Color Corrections, Vivid Colors, Extensions and Smoothing treatments.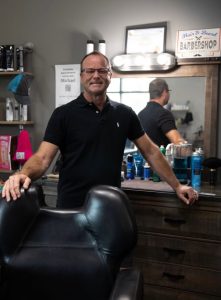 I recently moved to New Smyrna Beach from Missouri, where I owned and operated my own Barbershop for 16 years. I specialize in all aspects of Men and boys haircuts and grooming needs. Upon selling my business and "semi-retirement" in Missouri, I was recognized by the Missouri State House of Representatives for my commitment and outstanding service and rapor to the community as a business owner, highlighting the passion I have for my craft. I look forward to joining the Swanky family and meeting all the wonderful people in NSB!
In my free time, I love to travel and spend time at the beach!  I'm definitely loving living the "salt-life"!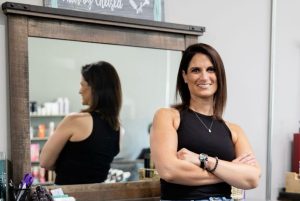 Chelsea has been a stylist for 10 years. She graduated from International Academy in Daytona. Chelsea specializes in Women's short hair cuts, is a certified L'ANZA colour specialist and Brazilian Blowout certified. She is also great at relaxing scalp massages to keep your scalp and hair healthy and conditioned. Chelsea's clients are her extended family.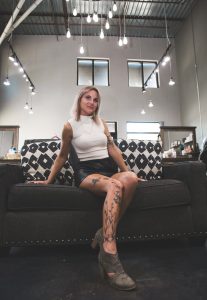 I am a Florida native, a mother of my beautiful 3 year old daughter Stella, a Wife, and dog mom! I love All things hair which has always been my passion since I was a little girl. I love making people feel beautiful in any way possible! I look forward to seeing you in my chair!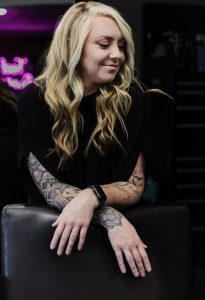 Make an Appointment
My name is Emily & I'm SUPER excited to be a part of the Swanky fam! I graduated from Aveda in 2016 and have been loving the hairstylist life ever since. I specialize in anything blonde related! At home I'm all about my family and my fur babies. I have a wonderful man, two step kids, 2 dogs, 2 cats, and a 3 month old kitten to keep me busy when I'm not behind the chair. I hope to see you in my chair soon! 🤗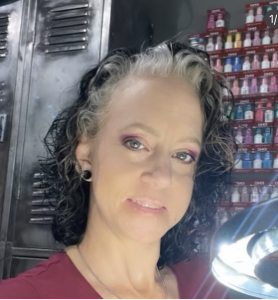 I'm a Florida native nurse turned Aesthetician. I spent almost 20 years in nursing and finally found my home in aesthetics. I bring that knowledge, care and cleanliness with me into the beauty industry, including advanced diabetic training. I specialize in all things nails, enhancements, acrylics, xl long nails, nail art, shorties, gel manicures and dip powder. I also specialize in pedicures with ingrown nail removal, and diabetic foot care. Do your eyebrows need some love? I'm your waxing artist! I look forward to collaborating with you to bring all your beauty goals to a reality.

If you want a GREAT hairdo go see Kerri Harris! So happy with her and her personality is so easy and we connected right away! THANKS Kerri for giving me a great haircut. It's more than I even expected and just the change I have been searching for.
I LOVE this place. Kat has been doing my hair for 6 years now. I have seen her and the business grow. I wouldn't recommend anywhere else for an amazing hair experience. Great prices, fantastic skill level and the best COLOR!
Had my 1st visit here today. Got my hair cut by Kerri. She is AMAZING!! I went from long hair to a very short style..she got me an appointment quickly and listened to exactly what I wanted. I brought in a picture of the style I wanted, I left looking Better than the picture!!!
Great experience! I really like what Kerri did with my hair!