Welcome to Swanky Studio @ Canal
Swanky Studio @ Canal houses some of the most Talented Stylists, Nail Technicians, Esthetician and a Massage Therapist. Both Located in beautiful downtown New Smyrna, Swanky offers services for every member of your family! Located at 534 Canal Street New Smyrna Beach, FL 32168. 
Give us a call today (386) 957-3841
Hair
Nails
Wedding Styles
Hair Services
Cut & Shampoo
Cut & Blow-dry
Partial Foil
Partial Foil & Cut
Color
Color & Cut
Color, Partial Foil & Cut
Cap Highlight
Cap Highlight & Cut
Full Foil
Full Foil & Cut
Full Foil, Color & Cut
Perm
Perm, Cut & Iron
Shampoo & Set
Shampoo & Blow-dry
Updos
Women, Men & Children Welcome
Nail Services
Spa Manicure
Mini Manicure
Paraffin Wax
Overlay
Nail/Buff/Polish
Toes/Buff/Polish
Shellac Manicure
OPI Gel Polish Manicure
Nail/Buff & Polish
Spa Pedicure
Mini Pedicure
Full Set of Acrylic Nails in Pink & White
Regular Fill in
Pink & White Back Fill

Missy McCormick
Owner/Nail Tech
---
I am first and foremost a woman of Faith, a wife to Chad and a mother to a beautiful son I adore. I have been in the industry for 20+ years, graduating from Cindy Lee's Nail Institute in 1995. I own both Swanky locations and love what I do everyday and the Swanky Family and clients that I get to spend my days with. I specialize in Acrylic Nails, Gel manicures, therapeutic pedicures and nail art. Our clients are our family and we like to make sure every one of them are home when they are with us!
Kateisha Inniss
Lead Stylist
---
I am first a woman of God, a wife and a mother, but for as long as I can remember, I have been a stylist. Hair was my first love. I began experimenting with my
family and friend's hair, styling and cutting, at a young age. Ever since I can remember, this has been my dream and my passion. I have been in the Hair
industry officially now for 9 years, beginning my career as a hairstylist at Swanky Chic Salon. I specialize in color and highlighting and am a master with Tigi
Color. Extensions are another one of my specialties. I also love working with Natural Hair and natural products and I love teaching natural Hair Care. I enjoy giving my clients exactly what they desire! Men's and Women's cuts I love, but the kids hold the
most special place in my heart. Each and every child that sits in my chair is special to me and I love them all! And as a native of New Smyrna Beach, I
especially enjoy sending our kids off to school with new styles to begin their year off right. My mantra is "look good, feel good, do good."
Above, I love life, love everyone in my life and love what I do everyday!
Eva Mullins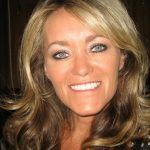 Stylist /Owner of ABW

Eva is an independent stylist at Swanky Chic Hair Salon in New Smyrna Beach. She moved to Florida in 2012 with 32 years experience as a stylist. As a home town salon owner for 24 years, she is a master stylist that strives to please each and every client. Eva has continued her education throughout the years and has attended master classes hosted by the top celebrity stylist from around the world.
Her first job was a shampoo girl as a young cosmetology student at age 15. Eva received most outstanding and blue ribbon awards throughout her classroom years. Hair styling has been her only job until she relocated in New Smyrna Beach Florida. Eva is also the owner of Affordable Beach Wedding and absolutely loves working with Brides and their families. Eva has years of experience in wedding hair and makeup as well as any special occasion style. She is and expert in razor cutting, dimensional color and highlighting. Matrix, Paul Mitchell, Rusk and Goldwell are just a few of her favorite products.
When not behind the chair Eva can be found on the golf course, shooting pool and fishing. Doing a beautiful beach wedding and making people happy is just icing on the cake.
Karen Strickland
Nail Technician
---
Karen has been in the industry for over 18 years, starting her education as a master nail tech graduating from Daytona State College. She then continued on and became a full specialist which includes facials, waxing and Nails. Karen's dedication and professionalism shows highly in her work and her relationship with her work family and her clients.
Rebecca Rivera
Stylist
My name is Rebeca, your Swanky Studio hair stylist!
Ever since I first assisted my stylist at age 16, I was fascinated at what a pair of shears and hair color could do. Since then, I made it my personal challenge to create beautiful hair styles. I graduated from Woody's Hairstyling school here in Florida in 2012. I specialize in cut (women, men and children), color, waxing and more! I simply love making people look their best. So, If you are ready for a change, book a consultation and let's talk about your goal. Together we'll create your personal style. I am available. I invite you to browse through my Instagram page @rebecarhair and view my work!
I look forward to meeting you!
~Rebeca
Samantha Vreeland
Stylist
David Galloway
Stylist
Cheri Davis
Stylist
Kristen Koehler
Stylist
Kristen has been called to do hair from a young age. She grew up in New Jersey, where she spent her first 18 years. Kristen graduated from Paul Mitchell the School Orlando, and spent many years honing her craft in The City Beautiful. She has been working as a hair professional for over 10 years. She now lives in Port Orange and is married to her wonderful police officer husband.  Together, they enjoy spending time at Disney with their amazing little girl.
Kristin Pisani
Salon Assistant
---
---
---
Presenting — Affordable Beach Wedding by Eva Mullins
Affordable Beach Wedding LLC in New Smyrna Beach, Daytona Beach, Ponce Inlet, and Ormond Beach offers a beautiful and romantic ceremony by nature's most breathtaking venue, the ocean. Saavy couples recognize that it doesn't have to cost a fortune to celebrate their memorable day. With Affordable Beach Weddings LLC in New Smyrna Beach you will receive top notch service from start to finish.
Get more information on our beach wedding services